Understanding Magnetic Flux Leakage (MFL) Technology
29 Jun, 2021
Magnetic flux leakage (MFL) has been around since the 1960s but, thanks to technology advances, still has the lion's share of the global intelligent pipeline pigging service market. MFL, Technology used to detect corrosion and pitting, is one of the most popular inspection tools of in-service pressurized pipelines.
NDT techniques, such as MFL, pulsed eddy current, guided wave technology and automated ultrasound thickness mapping, are crucial for investigating pipelines, tanks, and other oil and gas plant infrastructure for mechanical integrity and material flaws and faults which can lead to serious safety issues.
"The continuous health assessment of safety-critical components can eliminate compromise via timely troubleshooting often by pre-empting structural failure for example, in turn avoiding accidents and even death in the workplace," writes John McAleese in AZO Materials. "Executed well, NDT can provide revealing data that saves time and money while ensuring efficient process management."
Magnetic Flux Leakage (MFL): 50 Years and Still Going
The staying power of MFL is evident with patents dating back to the 1960s. Offshore magazine, back in 2000, estimated that MFL accounted for 80 percent of all pipeline inspections on the eve of the new millennium, touting its advances since inception:
"The technique is robust and reliable, and advances over the last 25 years have resulted in high resolution inspection systems that achieve accurate and repeatable measurement of defects in the pipeline. High quality inspection can be achieved with minimal disruption to daily operations," Offshore wrote.
Fast forward some 21 years later and Data Bridge Market Research released this month still shows MFL with more than 50 percent share of a global intelligent pipeline pigging service market projected to grow 5.2 percent annually between 2020 and 2027.
Magnetic Flux Leakage (MFL) Technology in Action
MFL utilizes a strong magnetic field to magnetize the steel or conductive material under
inspection. Where there are anomalies or defects — corrosion or missing metal — the magnetic field leaks out from the steel.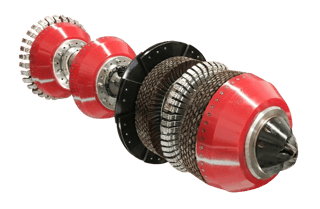 "The technology is super. It really helps to ID pitting and gradual wall loss," said presenter Jay Becklel at the Plant Maintenance and Safety Summit in December 2020.
How precisely does MFL work?
Pipeline inspection pigs use a magnetic detector placed between the poles of a magnet where it detects magnetic field leakage.
During inspection, a magnetic circuit forms between the pipe wall and tool.
The magnetic field saturates the part until it can no longer hold any more flux.
The flux then overflows and leaks out of the pipeline wall where strategically placed sensors can measure metal loss.
MFL data analysts interpret the leakage field reading to identify damaged areas and estimate the metal loss depth.
When the object being inspected has no flaws, the magnetic flux will remain undisturbed. If there is internal or external metal loss – such as corrosion or pitting – then the magnetic flux leaks from the object. Typically, the larger the change in the detected magnetic field, the larger the anomaly.
MFL tools can not only detect corrosion and pitting but can also find other general metal loss anomalies such as:
Circumferential crack-like features
Girth weld anomalies
Gouges
Scratches
Benefits of Using MFL Technology
MFL is still a popular pipeline inspection tool after 50 years because it provides accurate detection and sizing of metal loss.
Some of the benefits of using MFL technology include:
Versatility in either liquid or gaseous pipelines

Good sensitivity to pitting
Works in a wide range of

applications (wall thickness, mediums, and diameters)

Can be combined with other technologies to limit inspection tool runs
Ultimately MFL will continue to be a key NDT technique because it is quick, cost-effective, and technology advances continue to provide more insight into a pipelines integrity..
At GeoCorr, our team has been providing MFL for over 13 years. Our analysis can provide preliminary reports in under 30 days and standard final reports in less than 60 days. Contact GeoCorr today to find out how our in-house experienced team can help you improve your pipeline safety with an inline MFL inspection.